Microsoft wil mij graag helpen. Niet alleen van mijn geld af, maar ook … – o, die is wel héél flauw.
Als ik mij wil aanmelden, krijg ik dit scherm te zien (het e-mailadres van mijn werk heb ik ff weggepoetst):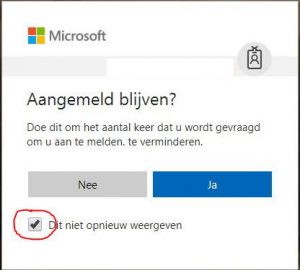 Uiteraard zet ik dan een vinkje bij 'Dit niet opnieuw weergeven' (rood omcirkeld). Maar ongeacht of ik dan voor 'Ja' of 'Nee' kies, komt dit schermpje toch iedere keer weer terug… Dat is vreemd, want mijn 'credentials' heb ik dan al aangeleverd.
Goed naar klanten luisteren is een kunst.